111 East Beaver Avenue State College, PA • 814-238-1406
MON-THUR: 5PM-2AM | FRI: 11AM-2AM | SAT: 10PM-2AM | SUN: 7PM-2AM
~ days till St Paddy's Day!
Welcome to the Phyrst
The Phryst is one of State College's basement bars with a dedication to the local music scene, friendly atmosphere, pool tables, and a wide selection of beers and liquors to choose from, as well as a great place to celebrate your birthday!
Phyrst History
Fifty years ago, a 22-year-old landscape architecture student named Don Bartoletti signed a $250-a-month lease at 111 ½ E. Beaver Ave. for a bar he had wanted to create since arriving in State College four years earlier. This bar would be a welcoming place where businessmen, students, Viet Nam vets, and those just passing through could have a drink, tell a story, sing a song, argue about politics, and do so freely, without prejudice.
In 1969, "Bart" would be joined by a 44-year-old father of six, a WWII vet and an engineer at one of the Defense Department's largest contractors. Together, the unlikely duo of Don Bartoletti and Ernie Oelbermann would prove the power of a bar was not unlike that of a church. Ecumenical. Sincere.
College towns need these places. At Penn State, dozens of them have come and gone throughout the years, impossibly important for a group of people for a fixed time, and then gone and forgotten just as quickly. And yet, The Phyrst persists.
Phyrst Games
Article By Zach Berger
Original Article can be found here
With any old bar, there's bound to be some tradition to find within its dark, wooden walls. But The Phyrst isn't just any old bar. State College's favourite basement has an impressive list of traditions that have been around since it first opened its big wooden door in 1966. For those who spend most of their free nights at the Phyrst, you're likely familiar with some of the nuances, knickknacks, and gimmicks that have helped earn the bar its popularity. If you're not yet a Phyrst veteran, you have a lot to learn, but the bar always provides a warm welcome to new regulars.
From blowjob shots to fire hydrants, here's what you need to know about the quirky characteristics and vintage traditions that make the Phyrst such a beloved State College staple.
Come celebrate with us on your Twenty-Phyrst!
The Table Wars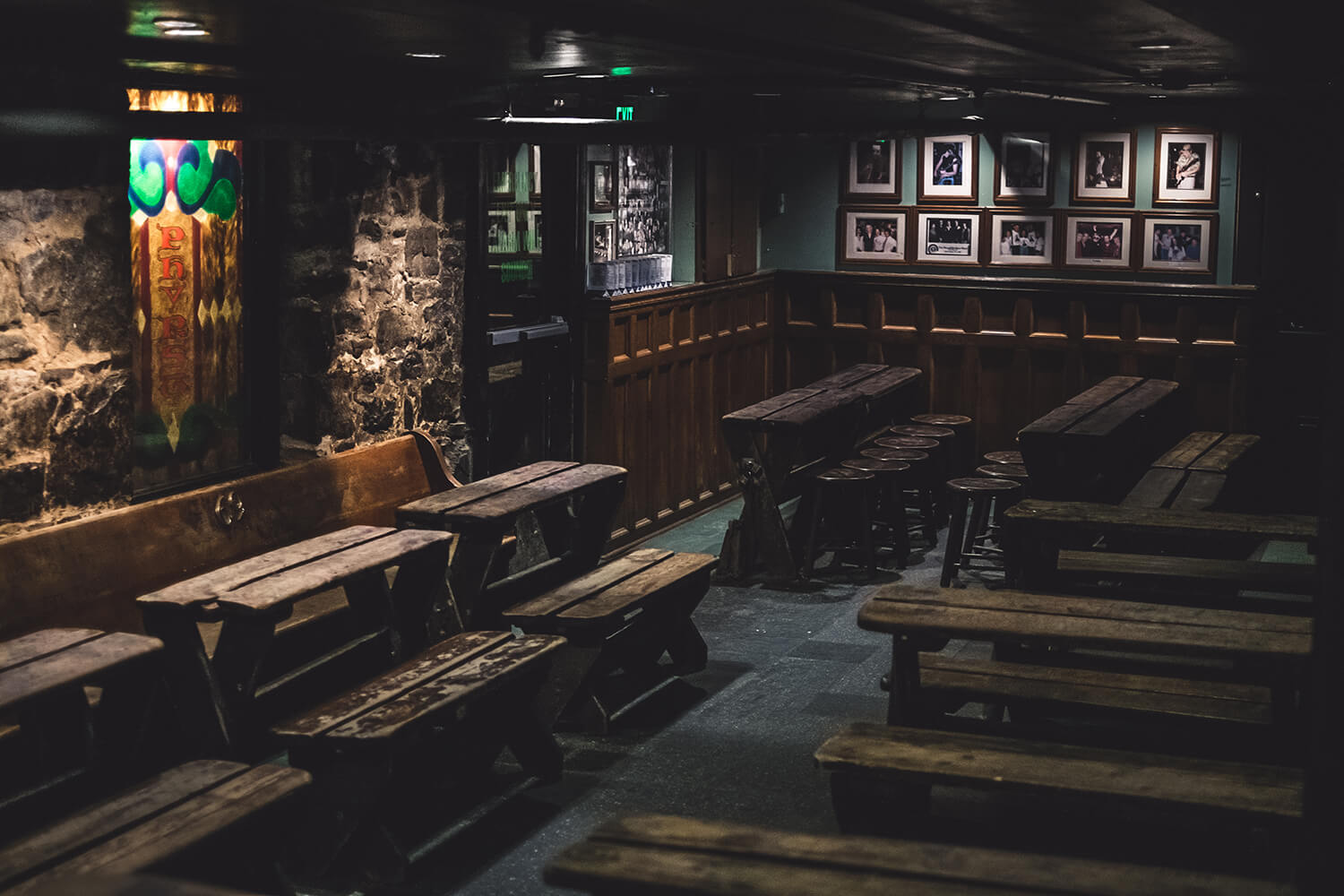 While this barroom game has lost some of its popularity over the years, Phyrst owner Mike Fullington said Table Wars is making a comeback. From Table At The Wall, to Table 69, the game divides the entire bar into teams based on where their members are sitting (the rules are on the wall for newbies and alumni needing a refresher).
Originally, the game was played exclusively on Saturday nights, often drawing in a crowd that came for the sole purpose of taking part in Table Wars. If you get in on a game today, you might find that tables simply recite a chant to each other and that's about it…but it hasn't always been that way. Fullington said that tables used to sing a song when called on, and if it went well, you'd have a bar full of drunk patrons singing together. If the song wasn't a crowd-pleaser, the table would get booed and be forced to chug their drinks.
The game's best-kept secret these days might be a "table" that nobody knows exists. "You can call on the bar," Fullington said. "If you call on the girls behind the bar, they have to chant along too or else they have to chug Red Bull."
The Hydrant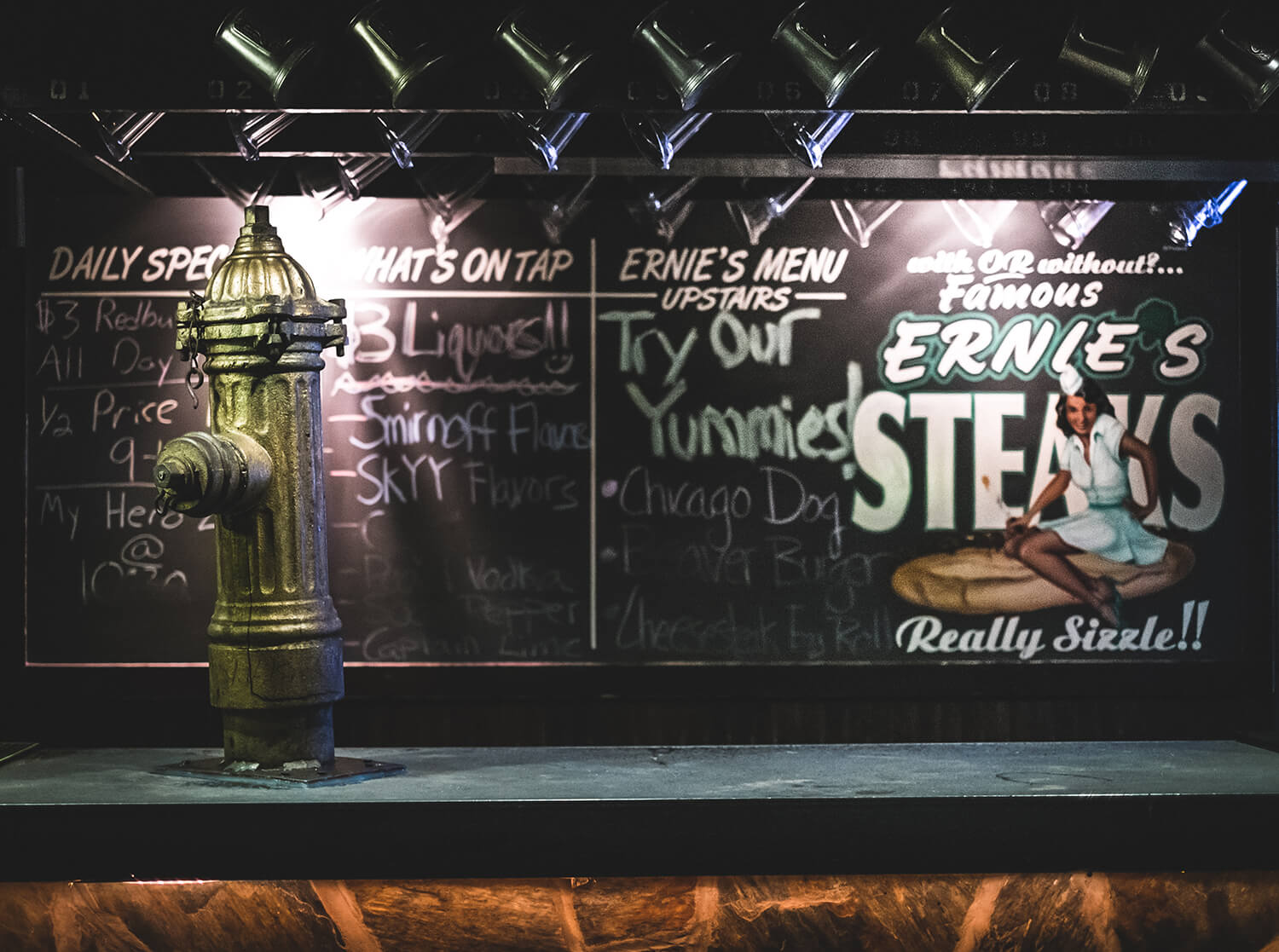 If you've been to the Phyrst, you likely noticed a big, gold-painted fire hydrant on the left end of the bar. What looks to be an innocuous piece of bar décor is, in fact, a working fire hydrant.
"It used to not move, but we wanted to be able to spray everybody," Fullington said. "It usually makes a lot of people mad so we have to watch who we're spraying." The hydrant is actually a part of Table Wars. Before it was put on a swivel, the hydrant was pointed directly at the cowbell. If someone grabbed the cowbell during a game and messed up, all of the tables would jeer the wrongdoer to chug or ask for the hydrant to soak them.
The Cowbell
The cowbell has been a part of the Phyrst for as long as Fullington can remember. While it used to be used almost solely for Table Wars, you'll now mostly hear it randomly throughout the night for the "PSU" cheer. If you're lucky enough, you might just end up with a Phyrst cowbell of your own one day.
Fullington said that the cowbell gets beat up quickly and is replaced about twice a year. He typically gives the piece of Phyrst memorabilia to a regular or holds an impromptu auction. Along with the cowbell go the Phyrst drumsticks, stored in a box on the wall, chained to Table One. Fullington replaces the drumsticks on a daily basis because they're stolen at a rate of five a night.
"Everybody always wants to take a little piece of the Phyrst home with them," he said. "I don't mind it. The Phyrst is for everybody to enjoy. It's a family."
The Name
The Phyrst was founded and bestowed its legendary name in 1966. Penn State alumnus and first Phyrst owner Donald Bartoletti told co-owner Ernie Oelbermann that the bar would be their first of many endeavors in the business. To add an Irish flare to the name, Bartoletti purposely misspelled the word "first."
The name, along with the green and gold sign written on above the bar's imposing black door, has become nearly as iconic as the bar itself. This became evident when the bar's upstairs neighbor, also owned by Fullington, was quickly nicknamed the Second despite being officially named Local Whiskey. And from now until the end of time, phans of the Phyrst will misspell every word with the letter F in it.
The Mugs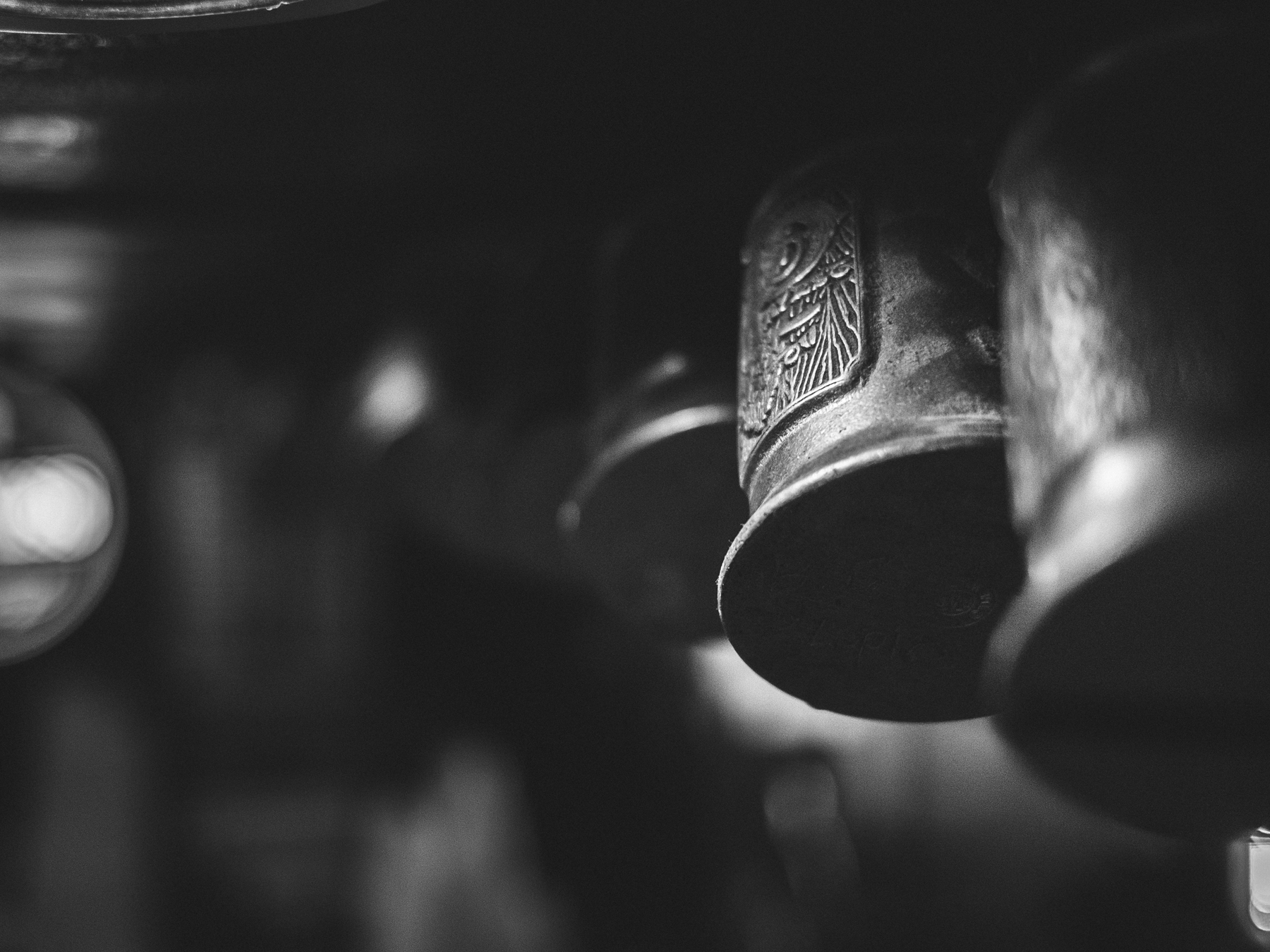 When Bartoletti founded the Phyrst, he implemented a mug rental program seen at many bars. Patrons could rent a traditional pewter Irish beer tankard emblazoned with the Phyrst logo that gave you half-off beer.
The rental program was shut down by the Pennsylvania Liquor Control Board because it was deemed an enticement, but you can still see the mugs lining the ceiling above the bar. Back in the day, the entire bar ceiling was filled with more than 900 Phyrst mugs.
"It would be the middle of a football Saturday and you'd have to ask people to move aside so you could stand on their table and grab a mug," said Phyrst general manager Tim Riefel. "If you had a mug, you'd get half off of a draft. It was almost like happy hour whenever you wanted."
Patrons began to get creative with their mugs. The Phyrst had an engraving machine to put names on the mugs, but eventually people began using the machine themselves to put designs on their mugs. The mugs were an initiation of sorts for 21st birthdays. Friends would buy them in advance of birthdays so that newly-legal students could have their first drink out of a brand new, engraved Phyrst mug.
The Hats
While the idea of a birthday pewter mug may sound foreign to you, the Phyrst is still known for its birthday souvenirs today. The most coveted State College birthday night photograph involves the Phyrst and a plastic, green top hat.
"That started five or six years ago," Riefel said. "It became a huge hit. People love getting the hats. We used to just have little knickknacks on the wall going down the stairs, but we decided to start putting up pictures of people's birthdays."
Riefel added that they won't let in a birthday celebrator if he or she is too drunk, but a bouncer will escort them down the stairs for a quick picture and a free hat. The Phyrst gets about 30 birthdays a night, so there are hundreds of green hats given out each year. "At midnight, they can come down and get their hats and blowjobs," assistant manager Erin Choe said.
The Drinks
To clarify, the blowjob that Choe mentioned is a shot that involves licking whipped cream in the shape of a penis off of a glass and then taking a shot without using your hands. The blowjob shot isn't original to the Phyrst, but it has become another birthday staple at the bar. As for a signature drink, the Phyrst's bar menu boasts the very popular Irish Trashcan. With vodka, rum, blue curacao, and an upside down Red Bull, the Trashcan has something for everybody and is sure to wake you up. It was originally intended to be sipped through the straw in one straight shot like a Mind Eraser, but Choe said that most patrons sip it like a normal drink these days. If you want a Phyrst original, get a Stars and Stripes shot on your next visit. You won't regret it.
The Girls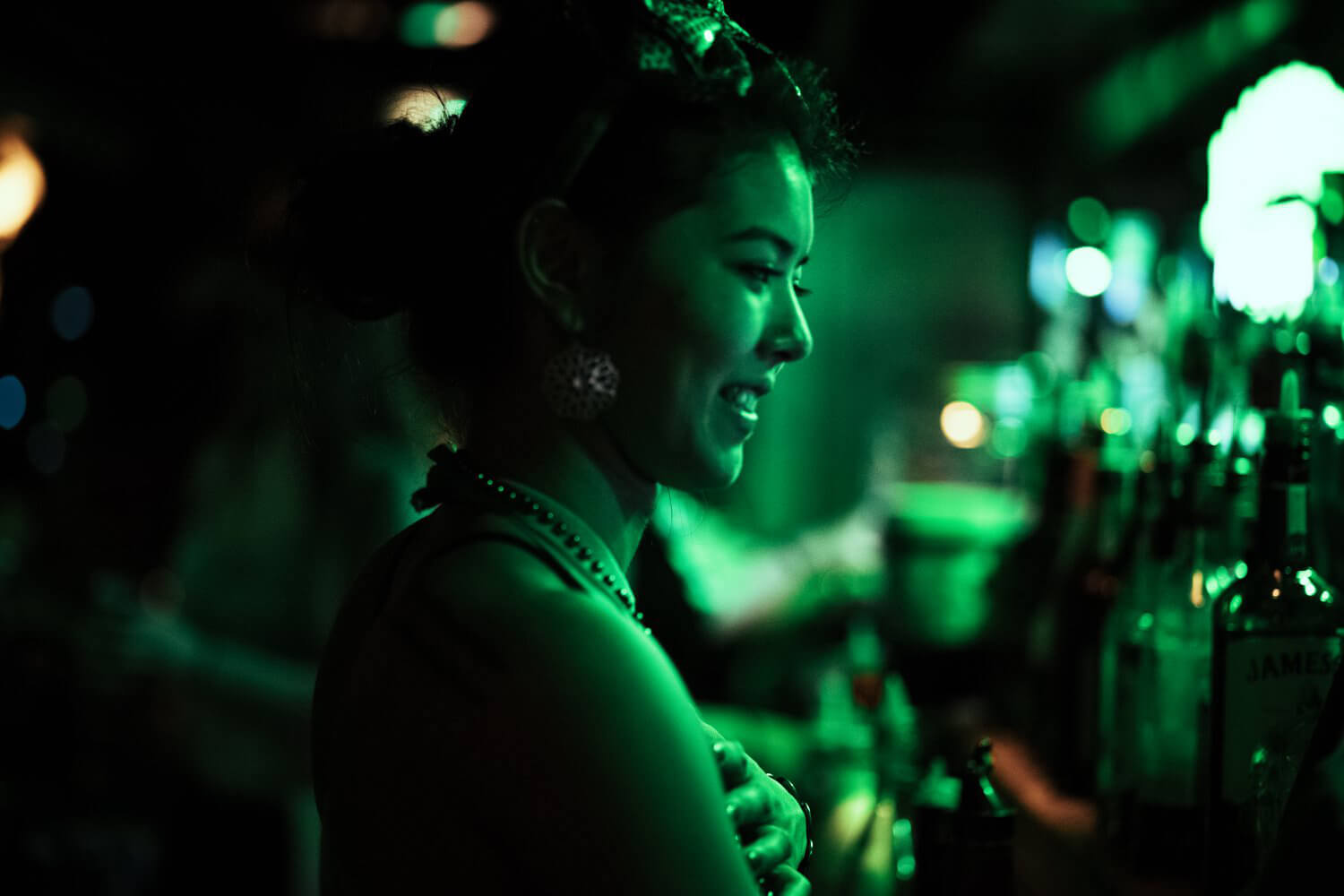 When Fullington took over the bar 12 years ago, the Phyrst primarily employed guys as bartenders. With the exception of a rare male bartender here or there, the exact opposite is the case today.
"I started hiring all girls. They have fun back there," he said. "They were the ones that decided they wanted to start cutting shirts and then they kept getting smaller and smaller, but I let them do their own thing."
Fullington said that the personality of a bar emanates from the people serving the drinks. "We look for the nicest, sweetest girls. Even if they haven't had experience, we'll hire them to be bartenders if they have good personalities," he said. "That's what really sets the tone for the whole place. We want to treat everyone that comes in here like family."
The Music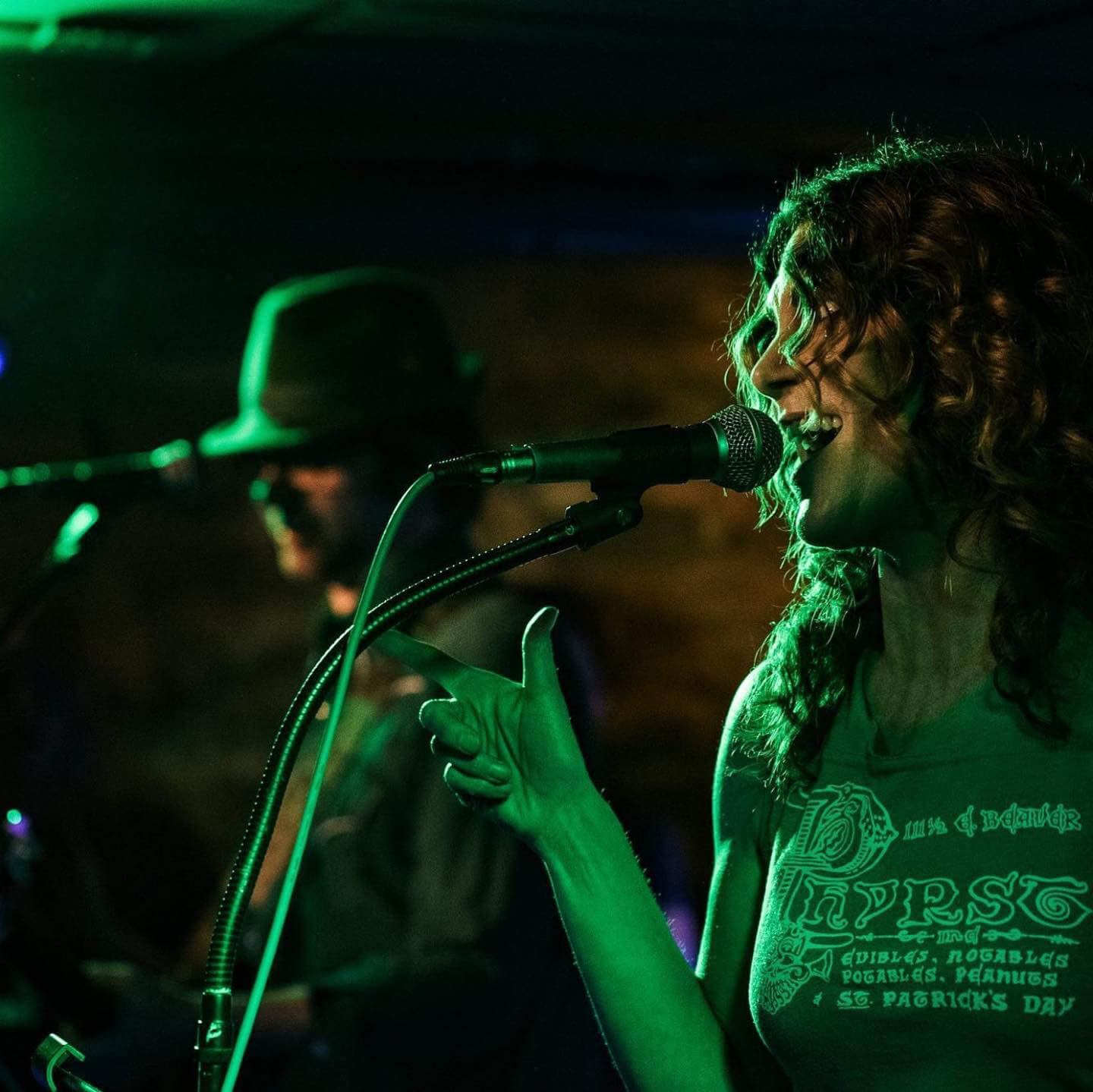 365 days a year, you can hear live music coming from the stage at the Phyrst. Featuring an eclectic lineup of bands stretching across genres from pop and alternative to country and classic rock, there are always good jams to be heard. Bands like Maxwell Strait, featuring professor Molly Countermine as the lead singer and the talented Ted McCloskey at guitar, have been playing at the Phyrst for around two decades.
There used to be a Phyrst Phamily Band fronted by original owner Ernie Oelbermann. It doesn't exist anymore, but Locust Lane has grabbed the torch. The band is made up of an Ernie's employee, a Phyrst door manager, a Local Whiskey bartender, and a Phyrst girl.
The Rest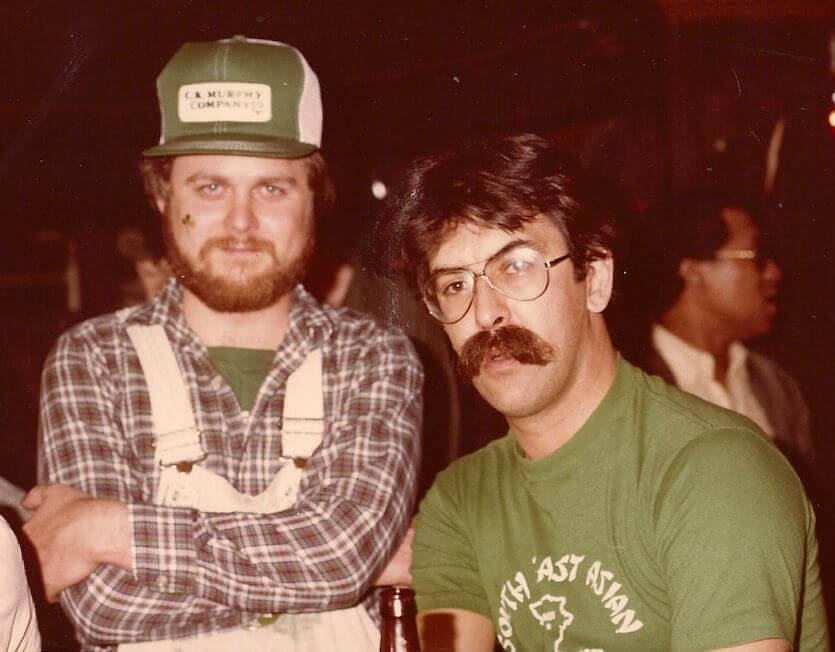 There's the massive trays of piping hot Ernie's fries that make the bar smell magnificent. There's the stained glass windows with wrought-iron outlines, so old that even Fullington has no idea who put them in. There's the Tip/Happy Hour Bell, or as Choe called it, the "Just For The Fuck of it Bell." And on top of all that, there are new traditions to come. Fullington is starting a Whiteout Wednesday that will happen each week before home games. Jim Beam and Miller Lite will be in the house with free white t-shirts and anyone can grab a can of Miller and a shot of Beam for $3 with no cover charge. There's also the Classic Ernie's Challenge, which will be a food challenge featuring the original four items to grace the Ernie's menu: a tray of fries, a large cheesesteak, a dozen wings, and an egg roll. There really is something for everybody inside the Phyrst.
Our Location
11 East Beaver Avenue State College, PA 16801
(814) 238-1406
Beers on Tap
PBR
Miller Lite
Yuengling
Michelob Ultra
Blue Moon
Guinness Draft
Sam Adams Seasonal
New Belgium Fat Tire
Troegs Perpetual IPA


Look to relax?Make your way upstairs
for some Local Whiskey